2018
2017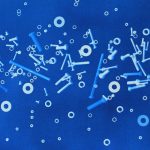 March 24, 2017, 5:00 pm
You are encouraged to submit artwork that pertains to the idea of 50 years of science and art, though other artwork will be accepted. March 1 submit intent application. March 22 drop off artwork between 8-11am.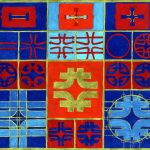 June 1 - Sept. 30, 2017, 5:00 pm
Robert Wilson handpicked Angela Gonzales in 1967 to collaborate and create a visual identity for Fermilab. Her vision was inspiring and bold. From designing book covers of scientific proceedings to posters for the arts and lecture series, she detailed her strategy. She incorporated visual objects that reflected the intellectual challenges and innovations within the laboratory. For 31 years, she worked with Fermilab and was a truly legendary artist.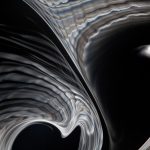 Oct. 12 - Dec. 29, 2017, 8:30 am
Wind Flow Photography is a collaborative effort between Shirley Nannini and Candace Wark. By combining scientific and artistic schemata, their art evolves from the novel approach of photographing wind movement to convey its essence and transient nature. The resulting images—photographed in a wind tunnel—are adapted from a technique used in scientific research and portray the interactions of wind, smoke and light.
2016
2015
Where Science Inspires Art
Fermilab Employee Art Show 2015
September 18, 2015- November 30, 2015
On That Note
Chicago Printmakers Collaborative, Jim Jenkins, Robert Krawczyk, Jeremiah Lee, Chris Olsen, Erik Ramberg
July 1, 2015- September 10, 2015
Systems and Intuition
Fawn Clarke-Peterson, Jen Evans, Rita Grendze
April 28, 2015- June 26, 2015
Art@CMS
February 1, 2015- April 23, 2015
Imagined Landscape: Melanie P Brown,Suzanne K Loechl, Julian E Williams
December 4, 2014- January 29, 2015
Previous years
Negentropy – Bruce Riley and Renee Robbins
September 17, 2014- November 28, 2014
Approaching Light- Louise LeBourgeois
July 1, 2014- September 12, 2014
Edward Tufte-The Cognitive Art of Feynman Diagrams
April 12, 2014- June 26, 2014
Jay Strommen- Creativity is not Created
January 29, 2013- April 10, 2014
Fermilab Examined – a juried Exhibition by members of the Fermilab Photography Club
November 15, 2013- January 26, 2014
Views: Four Art Professors from NIU – Y. Kuo, A. Nason, C. Rollman, H. Wirth
September 17, 2013 – November 12, 2013
The Julia Set: Working the Angles by Julie Ris
July 12, 2013 – September 12, 2013
Foundations of Drawing-Steven Carrelli, Lelde Alida Kalmite, Todd Serrano, Laurie Shaman
May 10, 2013 – July 8, 2013
Employee Art Show – Out of the Office
March 20, 2013 – May 7, 2013
Mary Stoppert-Relics and Reliquaries
January 24, 2013 – March 15, 2013
In Visible-new paintings and drawings by Adam Benjamin Fung
November 12, 2012 – January 20, 2013
Martyl – a retrospective
September 20, 2012 – November 6, 2012
Rugged Elegance by Mike Baur and Stephen Mueller
July 16, 2012 – September 17, 2012
Abstract Jewels of Modernism by Roland Kulla
May 14, 2012 – July 14, 2012
Potential Energy
March 21, 2012 – May 9, 2012
Contemporary Realist Painiting by Tony Armendariz
January 26, 2012 – March 16, 2012
Stitched Together, Art and Science – Art Quilts by Midwetern Artists
November 1, 2011 – January 20, 2012
Rhythm and Flow – Kwang Jean Park
August 29, 2011 – October 29, 2011
Natural Elements- Karen Brown, Roberta Polfus
June 9, 2011 – August 24, 2011
Employee Art Show-After Hours 2011
April 13, 2011 – June 3, 2011
Through the Lens-Images by Reidar Hahn and the Particle Physics Photowalk at Fermilab
February 9, 2011 – April 8, 2011
William Worcester-Natural Light and the Landscape
December 8, 2010 – February 4,2011
Aviation by Rob Bach
September 15, 2010 – December 3, 2010
Chicago Printmakers Collaborative
Ariyama, Goro, Lader, Laurel, O'Connor, O'Malley, Sterling, Upart
July 8, 2010 – September 8, 2010
Urban Landscapes
Andy Paczos
Lisa Harris
May 6, 2010 – July 5, 2010
I Live in a Duplex
Virginia Broersma
March 4, 2010 – May 3, 2010
Peter B. Olson
Dissimulation
December 4, 2009 – February 26, 2010
John Chervinsky
An Experiment in Perspective
September 28, 2009 – November 30, 2009
Art in the Abstract
Guy Bellaver, Kate Friedman, John Slavik, Shawn Slavik, Ana Zanic
May 15, 2009 – July 6, 2009
Artist Within – Employee Art Show
May 15, 2009 – July 6, 2009
Wildlife Field Studies by Peggy Macnamara
March 9, 2009 – May 8, 2009
Nature's Masterpieces: Chicago Wilderness and Beyond
Photographs by Ray Mathis
January 9, 2009 – March 4, 2009
Small Works: 2008 International Orton Conebox Show, Ed Cook, Nancy D'Agostino, Juliette Herwitt, Nancy Staszak, Sadia Uqaili, Anne Von Ehr
November 12, 2008 – January 5, 2009
Intersections: the Art and Science of Light experiments in Holography, Photography & Mixed Media by Lori Napoleon, Ed Wesly, Todd Johnson
September 12, 2008 – November 10, 2008
McMahon Family Affair- Franklin, Franklin Jr.,Mark, Carolyn, Meryl, Andrew, Elise, Debbie, Margot, Hugh, Michael
July 21, 2008 – September 17, 2008
Earth Works – Gary Schirmer Philip Schroeder
May 19, 2008 – July 16, 2008
Hidden Talents – Employee Art Show
March 19, 2008 – May 14, 2008
Jeff Curto – The Italian Portfolio: Evidence of Hands on Stone
Tanya Lunina – Flowers: Colors, Lines and Shapes
January 25, 2008 – March 14, 2008
Biological Impulses: works by Yvette Kaiser Smith and Beverly Kedzior
November 6, 2007 – January 21, 2008
Probability of Certainty Suminagashi:The art & science of Painting On Water by Amy Lee Segami
August 27, 2007 – November 5, 2007
In Search of Meaning: Lylie Fisher
July 3, 2007 – August 22, 2007
Thru a Distant Lens: Weavings by Sherri Smith / Paintings by Barbara Cervenka
April 30, 2007 – June 28,2007
Nikon's 2006 Small World Photomicrography Competition
February 14, 2007 – April 26, 2007
D.L. Brown-Watercolors
January 8, 2007 – February 13, 2007
Art Work 06-an Employee Art Show
November 6, 2006 – January 3, 2007
Moon Project by Sallie Wolf
September 8, 2006 – November 1, 2006
Specific Conversations paintings by Dawn Meson
Glass Explorations by James Wilbat
June 27, 2006 – September 5, 2006
Miles Lowry "A Celebration of Old Growth"
Gum Bichromate Prints by Keith Gerling
April 28, 2006 – June 20, 2006
Fertile Ground – Pam Allnutt
March 2, 2006 – April 25, 2006
Color Expressions- George Shipperley
January 9, 2006 – February 28, 2006
Perfect- a group exhibition
November 9, 2005 – January 5, 2006
Origami- L. Allen, C. Palmer, R.J. Lang
September 1, 2005 – November 4, 2005
Sized Matter-Perception of the Extreme Unseen- Jan-Henrik Andersen
June 6, 2005 – August 26, 2005
My Artistic Side – an Employee Art Show
April 8, 2005 – May 31, 2005
Environmental Battlegrounds- Photographs by Pete Souza
January 24, 2005 – April 1, 2005
Kinethesis = Jim Jenkins and John Stanicek
November 3, 2004 – January 19, 2005
Compound Interests: The Fine Line Arts Center Faculty Exhibition
September 1, 2004 – November 1, 2004
Perspectives of the Midwestern Landscape
by H.Dean Willis and Sue Skowronski
Jume 15, 2004 – August 30, 2004
Develop, Stop, Fix
Photographs by Ellen Lederman, Kathleen Fischer, Dan Zamudio
April 14, 2004 – June 14, 2004
Contemporary Art and Living Stones Provided by Willaim H. Bigham Galleries and the World of Sculpture
February 1, 2004 – April 12, 2004
Beyond Light – Albert Koetsier / Succulent Society – Eric Wert
November 3, 2003 – January 30, 2004
Mode: Digital Images by Eric J. Heller
August 4, 2003 – October 30, 2003
FermiLandscapes: Plein Air Paintings by Kathleen Newman
June 3, 2003 – July 31, 2003
Fermilab Employees Arts and Crafts Show
May 1, 2003 – June 3, 2003
Still and not so Still
Paintings by Mae Connor
March 1, 2003 – April 30, 2003
Forms of Passion
by Patricia Armato, John Slavik, Benjye Troob
December 18, 2002 – February 25, 2003
To Every Season: Earth and Sky
Pastels by Lynn Krause
October 3, 2002 – December 16, 2002
One Year Later 9/11
September 1, 2002 – October 1, 2002
Chicago Diverse Architectural Fragments
Photographs by Algimantas Kezys
June 13, 2002 – August 29, 2002
Current Works by Cheryl Holz
April 17-June 11, 2002
Etchings by James Manos and Watercolors by Lynne K. Railsback
February 1, 2002 – April 15, 2002
View Lynne K. Railsback artist statement and photos
View James Manos artist statement and photos
Contrasts – The Photo Exhibition
Fred Ullrich and Reidar Hahn
October 29, 2001 – January 2002