The Fermilab Art Gallery is located in Wilson Hall on the second floor. Open to the public Monday to Friday from 8 a.m.- 4:30 p.m. Please sign in at reception in Wilson Hall atrium.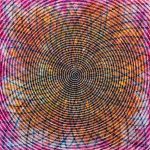 Aug. 21 - Oct. 28, 2019, 10:00 am
Gallery Talk - August 21 at noon  Artist Reception - August 21 5-7pm  Ever since I can remember, curiosity has been my driving force, leading me to ask questions about everything around me. This has led to my constant exploration and experimentation of ideas and thoughts based on scientific and philosophical enquiry. Combining scientific...
More »