The Fermilab Art Gallery is located in Wilson Hall on the second floor. Open to the public Monday to Friday from 8 a.m.- 4:30 p.m. Please sign in at reception in Wilson Hall atrium.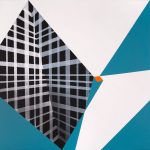 Dec. 7, 2018 - Feb. 18, 2019, 5:00 pm
On Display December 7 2018 through February 27, 2019 Opening Reception December 7 5-7pm Grounded in an intuitive, meditative process, my drawing and painting are an exploration of the matter and energy that make up form; defining that energy, through shapes and patterns and the space that they inhabit is the basis for my...
More »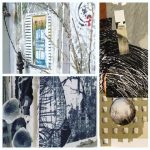 March 8 - May 23, 2019, 8:30 am
Studio Conversations is a collaborative exhibit of mixed media works by Mary Bookwalter, Janice Meister and Carol Weber.  Knowing that artists work in the vacuum of their own studios, these three artists and friends found a way to interact with each other's process while still creating individual works of art.  Their common themes along...
More »