The Fermilab Art Gallery is located in Wilson Hall on the second floor. Open to the public Monday to Friday from 8 a.m.- 4:30 p.m. Please sign in at reception in Wilson Hall atrium.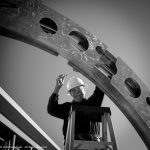 Jan. 8 - March 2, 2018, 8:00 am
A Perplexity of Conundrums On Display– January 8, 2018 through March 2, 2018 Artist Reception Friday January 12, 2018 from 5-7pm Dark Matters Sunday January 21, 2018 2:30pm Join us for "Dark Matters", a very special collaboration between Jim Jenkins, the Fermilab Artist-in-Residence and the Gallery Chamber Series to kick off the 2018...
More »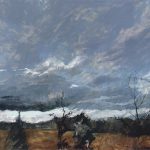 March 12 - May 14, 2018, 8:30 am
In A Passing Day: Land and Light, Ellen Holtzblatt's art explores the connection between the physical and the spiritual – the memories of the body that reside in the soul. Her recent landscape paintings of the Midwestern prairie and the Icelandic tundra become an allegory for psyche and emotion, as she considers place and how one's surroundings impact feelings and thoughts – seeking lands that seem beyond the control of humans.