Fermilab offers a public lecture series on a wide range of topics presented by experts in their respective fields. Lectures cost $7 and are usually on Friday evenings beginning at 8 p.m. in Ramsey Auditorium. Lectures are general admission seating, and frequently sell out.
For information, call 630-840-ARTS (630-840-2787). Purchase tickets with no additional fees.
Upcoming events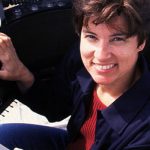 May 17, 2019, 8:00 pm
Tickets: $7
The deep-sea is the largest ecosystem on our planet and the least explored. It is a world without sunlight, but not without light. Dr. Widder will describe recent insights into the part living light plays in the deep sea and some of its applications and impacts in hunting cancer, pollution, giant squid and neutrinos.
Streaming video
Physics Slam VII is now available.
Todd Thompson's lecture, "Supernovae, Neutron Stars & The Origin of the Heavy Elements" is now available.
Joe Lykken's lecture, "Neutrinos are Everywhere" is now available.
Jorge Cham & Daniel Whiteson's lecture, "We Have No Idea," is now available.
Priya Natarajan's May 5 lecture."Mapping the Heavens" is now available.
Chris Quigg's Jan. 27 lecture "Fermilab's Greatest Hits: Highlights from the First Fifty Years" is now available on YouTube.
View selected streaming videos.