T.B.A., January 28, 2018
Metropolis Quartet  February 25, 2018
Axiom Brass March 11, 2018
$45 for three concerts, $18 for single tickets
Free online ticketing now available! Go online to purchase tickets or call our box office at 630/840.ARTS (2787).
All Gallery Chamber Series concerts begin at 2:30 p.m. in the Fermilab Art Gallery on the 2nd floor of Wilson Hall. All performances include a postconcert reception with the musicians.
Upcoming events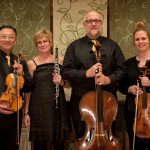 Feb. 25, 2018, 2:30 pm
Tickets: $45 for series of all three Gallery Chamber Concerts; $18 for individual concerts
The Metropolis Oboe Quartet invites you to join them on an exciting journey through the greatest chamber music of all eras. Aficionados and newcomers alike will experience music as never before in this memorable display of high-caliber music complemented by the ensemble's energy and love for what they do. For nearly a decade, this talented...
More »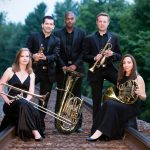 March 11, 2018, 2:30 pm
Tickets: $45 for series of all three Gallery Chamber Series concerts; $18 for individual concert
Praised for their "high level of musicality and technical ability" and for their "clean, clear and precise sound," the award-winning Axiom Brass Quintet has quickly established itself as "one of the major art music groups in brass chamber music."