Spektral Quartet January 29, 2017
The Three Celli  February 5, 2017
PIcosa Ensemble March 5, 2017
$42 for three concerts, $17 for single tickets
Free online ticketing now available! Go online to purchase tickets or call our box office at 630/840.ARTS (2787).
All Gallery Chamber Series concerts begin at 2:30 p.m. in the Fermilab Art Gallery on the 2nd floor of Wilson Hall. All performances include a postconcert reception with the musicians.
Upcoming events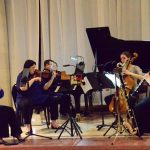 March 5, 2017, 2:30 pm
Tickets: $17
Picosa is a new Chicago-based mixed chamber ensemble (flute, clarinet, violin, cello, and piano). Noted for its signature symphonic sound and virtuosity, Picosa presents an eclectic variety of works from baroque to contemporary, and soloist to full chamber ensemble.